SaaS Startup Synigo Uses Azure to Focus on Quality
Microsoft for Startups
11/11/2019
This is a guest post from Xavier Geerdink, CEO, and Derk van Lochem, CTO, Co-founders at Synigo (synigopulse.com).
A sobering number of years ago, Bill Gates explained what he meant when he said personal computers would help realize information at our fingertips. He recognized the broad power of the PC; much more than a computing device, the PC is a window to the world of information.
Today, this observation rings unmistakably true. Our computers present a firehose full of the world's information that threatens to overwhelm us. We spend a lot of time filtering out the bits we need while avoiding distraction by the bits we don't. Data comes at us from so many sources, in so many different forms, and usually from many applications each with its own idiosyncrasies.
At Synigo B.V., we saw a clear need for a single portal that managed that information on your behalf, finding what's of interest to you, and presenting it in a familiar way on your favorite device at work, at home, or on the go.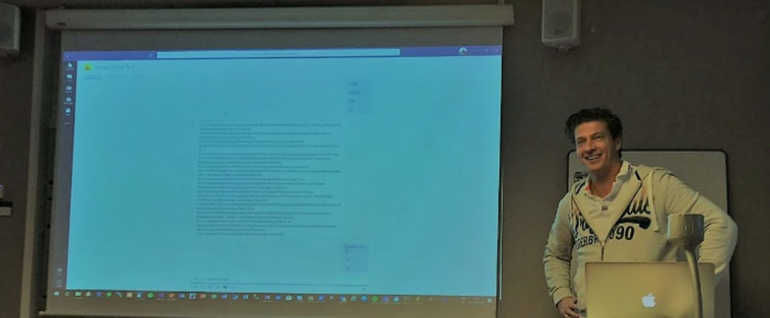 Derk van Lochem Presenting Synigo at the Microsoft Teams Hackathon
Synigo Pulse takes a 360-degree view of the information employees need and pulls it together into a personal, customizable web portal. You can see your tasks, notifications and messages, work and social user groups, along with all the latest associated data provided by your key applications and services, in your own customized dashboard. It helps employees focus on what matters, work more effectively, and, it turns out, more enjoyably.
We bring a familiar, simple, stable online environment. Employees have a trusted single point of entry to everything they need for their work, isolating them from the dynamic and sometimes chaotic changes beneath the surface.
And that's a key benefit of Synigo Pulse; apps and services may change, but data connectors we build continue to give you that transparent and effortless access to the data you need.

Connecting employees to their organization's world
Our customers can select from our growing collection of connectors that avoid the requirement to visit individual apps—and instead plug those data sources directly into a custom portal. Synigo Pulse supports Microsoft Office 365 apps, along with other web apps, tools that search and filter, collaboration services, news feeds, and calendars. Employees can customize access to their information from the HR database. Track latest job opportunities. And our popular chatbot can integrate with social and collaboration services to find company information from wherever it may reside.
We build upon QnA Maker, part of Microsoft Azure Cognitive Services, to provide the best interface into our dynamic knowledge base. And if Synigo Pulse can't access the information, we can connect to an organization's SMEs and content owners to get it. The result is a growing body of relevant company data, provided by experts, driven by user requests, that captures the information that runs an organization.
Stephan Verroen is the Adviser of Quality and Safety at one of our bigger healthcare customers, Humanitas DMH. Stephen recognizes how Synigo Pulse helps employees fulfil the central mission of his organization: "We have to make it as easy as possible for employees to be there for the client. They must not waste time on other matters but instead always have ready access to information and applications that are relevant for them."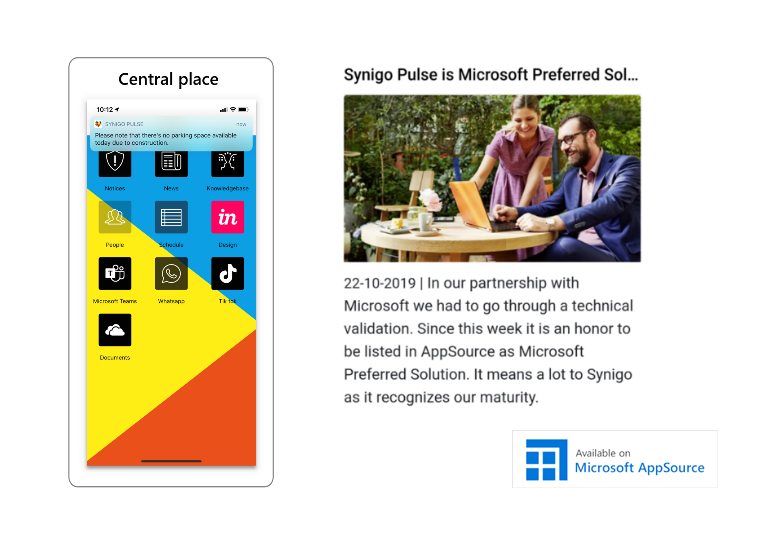 Scaling our environment
We offer broad industry support, serving education, healthcare, and telecom industries, but we have also found adoption in many other verticals including the diverse retail sector. We listen to our customers and build new connectors to satisfy commonly requested scenarios. We update our software as a service (SaaS) platform each month and email customers about new features. We aim to create a seamless experience so our customers don't have to think about the features; we do it on their behalf.
Synigo Pulse is also highly scalable. Built on Azure, it can leverage additional compute and storage resources as required to satisfy new customer demand without requiring us to build and manage those resources ourselves. We recently brought onboard two universities, one with more than 30,000 new users, over a weekend. We can configure those resources quickly, and once online they stay online thanks to the very high availability in Azure. We also benefit from the security and compliance features the Azure platform provides; customers in sensitive industries like healthcare have confidence they can meet their compliance requirements, while we conduct regular audits that confirm high levels of security.
In short, Azure does much of the infrastructure heavy lifting for us, freeing us to focus on producing our great software.
Focusing on what we do best
Thanks in part to Microsoft investment in mature SaaS platforms like ours, we can deliver really cool software to a very big audience with a relatively small team. To other startups, we recommend maintaining a relentless attention to quality when developing business-critical SaaS solutions at scale. Focus on the quality and on the performance of your online product, otherwise it will not take off. With Azure, can do just that—focus on quality instead of infrastructure. And that's where we like to spend our time.